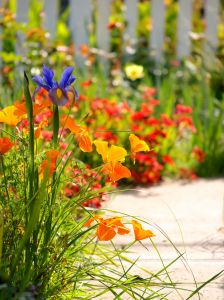 Southern California hosts the perfect climate for year-round color in your home's landscape. A little research will go far, choose a variety of plants with alternating seasonal blooms to ensure there is always something flourishing. Southern California's often dry climate can be harsh on some plants, and especially lawns if they are not properly watered and maintained. We suggest taking a look at the Better Homes and Gardens lawn maintenance calendar for tips on the best lawn care practices.
Winter, as in the majority of U.S., is a time to let your efforts rest. Some light pruning and fertilizing can give you a jump start on the coming year.
In the Spring, you should once again begin mowing and fertilizing. In prime growing season, be sure to keep weeds under control, as well as dead flowers. Supplement water when needed.
Southern California landscapers should spend fall planting again before the winter rainy season. In every season, you can help your landscape by planting a few favorite and easy perennials as well as hardy native plants.